Expanding Mount Carmel College to expand minds.
Mount Carmel College is set to expand the campus footprint to prepare for long-term modernisation.
Mount Carmel College in Sandy Bay, Hobart will begin implementation of its Capital Development Master Plan (2020), following the successful purchase of two residential properties adjacent to the school on Sandy Bay Road, Hobart.
The recent acquisition of the properties located on Sandy Bay Road will provide an enlarged, continuous footprint for future modernisation of the school, in line with the Master Plan.
The expanded footprint will allow a well-planned long-term implementation of the Master Plan and deliver a better-quality outcome, with more green space, a more cohesive and balanced learning environment provided for students.
The immediate priority is to modify one of the purchased properties to provide a compliant and functional Kindergarten space.  This will free up space in the existing Kindergarten House to allow full provision of an Early Years Centre to commence late in 2023. The same property can also provide additional school administration space relieving some of the pressure on existing facilities. 
The buildings on the second property are in poor condition and had already been approved for demolition prior to purchase. These buildings will be made safe and, once plans and funding are defined, will be modified, or demolished to make way for flexible learning spaces that can provide facilities as the school gradually implements its Master Plan.
The College has a clear and cost-effective plan for the future of the school for the next 50 years. This initiative sets a strong foundation for the College to continue delivery of high quality, modern education for all young women across the Greater Hobart region.
The Early Years Centre will be relocated to Quorn St with a quiet and safe pick up and drop off point.
There is a clear progression from the Early Years through primary to secondary  school.
The campus is cohesively connected via a safe and accessible pedestrian system.
The Student Centre & shared facilities are located at the 'Heart' of the school.
Years 7 to 10 have Nelson Road frontage avoiding busy Sandy Bay Road access.
The Multi-purpose venue (gymnasium, auditorium, performance space) can be designed to open into the Chapel and will be sized for full school events.
Lower height buildings significantly reduce building costs and increase aesthetic appeal.
Increased usage  of the existing buildings , reducing disruption, and lowering costs
New buildings can be terraced relating to the site topography.
The larger site allows for orderly staged implementation of plan.
Additional car parking will be available to comply with state planning  regulations.
Service vehicles and an under-croft workshop will have street access from Nelson Road.
The existing tennis courts and other safe and protected green spaces will be retained and expanded.
Building Fund
Supporting capital projects to build on our strong foundations.
Mount Carmel College continues to be a strong and vibrant community, thriving for over 170 years. One of the fundamental strengths of Mount Carmel is the highly engaged and passionate community of parents and friends, past parents and alumni who have, over the years, contributed significantly to ensure that our College continues to develop. This support has assisted the College in financing new building projects and the upgrading of facilities.
With the recent purchase of both properties on Sandy Bay Road, new opportunities exist for our community to show their support.
Donating to the Building Fund
We continue to be firmly committed to providing a comprehensive Catholic education of exceptional quality for our students and while school fees cover the day-to-day expenses of education, the College Building Fund supports the continued maintenance, restoration and future development of our College buildings and property for future generations.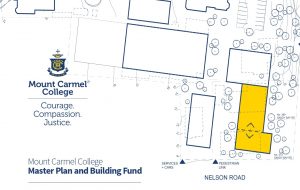 Donations to the Mount Carmel Building Fund strengthens our objective to provide facilities that serve to fulfil the College's vision for both current and future students.
Your donation, small or large, is received with gratitude and will make a meaningful difference. All donations are fully tax deductible and can be made by cheque, cash, credit card or EFTPOS.
For details on how to donate, please download the Building Fund flyer.
Alternatively, please contact Mount Carmel College on 6216 7900 or via email. With your support we can continue to provide for Mount Carmel girls now and into the future.