We are excited to welcome children and parents to our Learning for Life sessions each Wednesday afternoon from 1.30pm - 2.30pm.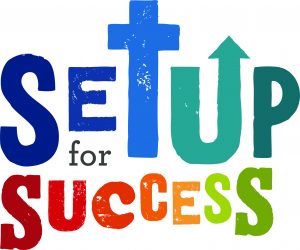 At Mount Carmel College our Learning for Life program is for children aged between birth and five years old run by our Early Years professionals. This program is part of the Set Up for Success initiative, a free program prompting life-long skills for both young children and their families.
Session Times and Location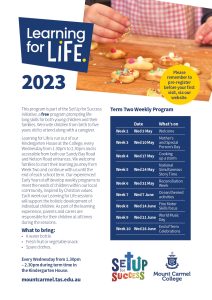 Learning for Life is run from Week Two of each term in our Kindergarten House every Wednesday afternoon from 1.30pm – 2.30pm and is accessible from both our Sandy Bay Road and Nelson Road entrances.
Mount Carmel College is located at 361 Sandy Bay Road, Sandy Bay (opposite Wrest Point Casino). If you require pram and/or level access, please use the car park entrance off Sandy Bay Road.
Click here for the Term Two program
What can you expect from Learning for Life?
Our experienced Early Years staff develop weekly programs to meet the developmental needs of children, inspired by Christian values. Each week our Learning for Life sessions will support the holistic development of individual children:
support families in understanding child development
strengthen relationships between families and young children
respond to learners and assist them as they begin their life-long learning journey
provide learning experiences that will explore the development of key areas such as gross motor skills, fine motor skills, sensory awareness, creativity and problem solving
provide play-based educational activities that will engage children's learning, curiosity and exploration.
As part of the learning experience, parents and carers are responsible for their children at all times during the sessions. Children should wear comfortable and weather appropriate clothing (spare clothes are recommended).
Are there costs?
There are no costs for attending the program. We kindly ask that all families bring their own drink bottles and snacks.
How do I enrol?
Registration is required to be completed on your first visit. Registration forms are available at each session or you may pre-register by completing the online registration form below.
We look forward to welcoming you into our Mount Carmel College community.
Personal information will be managed in accordance with the Privacy Act 1988 (Cth) (Privacy Act), including the Australian Privacy Principles (APPs) and may be accessed by the individual to whom it relates on request to the Tasmanian Catholic Education Office (PO Box 102, NORTH HOBART TAS 7002); or by contacting (03) 6210 8888; ceo@catholic.tas.edu.au).
COVID-19 Requirements
In line with current COVID-19 requirements, the following measures are in place to ensure our entire community is kept safe:
Please do not attend if anyone in your family is unwell or displaying any of the following symptoms:

Fever
Runny nose
Cough
Sore/Itchy throat
Shortness of breath

Only one adult per family group is to attend.
Upon arrival, please sign yourself and your child(ren) in and use the hand sanitiser provided.
When parents are at the College and are indoors, they are required to wear masks.
Please be mindful of the 1.5metre physical distancing for adults where possible. Children playing together, interacting and sharing experiences is encouraged.