It is with great pride in Mount Carmel College and our students that I welcome all who visit our website.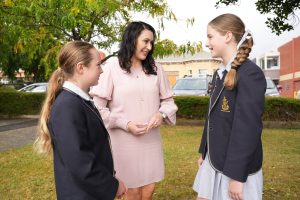 Mount Carmel College has a proud heritage of providing Catholic education for girls in Kindergarten through to Year Ten.  Uniquely set in Sandy Bay, southern Tasmania against the backdrop of the sparkling waters of the River Derwent, girls attend our College from Hobart and its many surrounding suburbs. Entering a new chapter as we plan, renovate and build new learning areas, it is an exciting time to be a part of this environment where our students truly thrive.
Mount Carmel College is a Catholic school for girls that has, since 1942, encouraged a love of life and learning. At the heart of our mission is the rich heritage we have inherited from the Sisters of Charity, and which we proudly acknowledge, a heritage of service and commitment to social justice. Our girls' only environment supports girls to take intellectual risks and to focus on excellence in achievement. We understand that girls will thrive in a learning environment where they are known, valued and affirmed, and our commitment is to place a conscious emphasis on this.
At Mount Carmel, we know that, as parents, you want your daughter to be supported on her educational journey, respected as an individual and given every opportunity to thrive. We understand that learning cannot occur unless students feel safe, nurtured and supported and we make this a priority. We strongly believe in the growth potential of every one of our students.
Our College encourages its students to flourish, to celebrate their many talents and to become young people of faith who strive to make a difference in the world. Our students are known for their outstanding success in science and engineering, sport, performing and visual arts, creative problem solving and community outreach work.
What makes our College unique is our dedication to excellence, our community of people and our focus on student wellbeing. Working in close relationship with our families, we enable each student to develop the skills for life-long learning: creative and flexible thinking, resilience, empathy and understanding, generosity of spirit and an understanding of their spirituality. Our commitment as educators is to walk with our students on their learning and faith journey, encouraging the students in our care to achieve their full potential.
My name is Megan Richardson and I am privileged to act as Principal for 2023.  I invite families to come and meet with me, explore the grounds, discuss our future developments and the many opportunities Mount Carmel can offer your daughter.  Stay in touch as we share our evolving spaces; focused on providing an education which meets the needs of every child.  I look forward to sharing our growing story and inviting you into our community.